For our Japan Study tour, a big part of the trip is our homestay with Keiai. So I'm here to talk about the things and how I think it went. 
Day One 
The homestay started at Keiai Middle School where are homestay came to pick us up. My homestay wasn't my buddy and was a girl named Yuri. For homestay, she took in three students so I was with Tayne and Reise as well. We went to their cafeteria to eat lunch and waited until her mother came to pick her up. On the way to their home, we stopped at a cake shop. The shop was so quaint and cute and we got cakes to go. We finally arrived at their home and we got settled. We got changed and ready for the banquet and performance we were going to have. Before the performance, we went and visited the mall that was across Yuri's home. We walked around and got ice cream before heading home. At the banquet, we performed our hula and changed into our formal wear. The banquet was a lot of fun and they had a lot of good food to eat. After the banquet, the day was pretty much over and once we got home we went to the 7-Eleven right next to her home and once we got back from that we got ready for bed.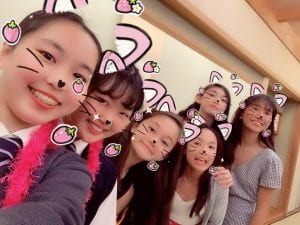 Photo Credit: Haruka Ehira
Day Two
Day two was the full day and night with our homestay. We ended up spending the day with Ally and her homestay Haruka. The first thing we did was a go up this mountain with a train that went to the top. There they had the most amazing view and even had a thing call the Lovers Dome. There they had this place where you lock a locket and take photos there. Afterwards, we hit Yuri's favorite mall. This mall was huge and we went around stopping at stores and even went to a Kpop pop up store. We also stopped at the Starbucks there and it was so much nicer than Hawaii's. They had different drinks and each cup had a personal cute message. We stopped at the arcade and all of us took pictures at the photo booth and we all kept one. After the mall, we had to say goodbye to Ally and Haruka and headed home. We had some time to kill before dinner so we had a mini dance party at the house and it was a lot of fun. At dinner, we got to get even closer to Yuri's family while eating some good food. When dinner was done and we got back settled in for the night we went to bed.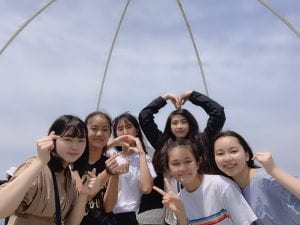 Photo Credit: Yuri Kanamoto
Day Three
Day three was our final day with our homestay and in the morning we headed to Keiai Middle School. There we had the temple service where we exchanged gifts and performed our hula dance. After the service, it was time for lunch. We were going to cook lunch with our homestays. We were put into groups and funnily enough, our group was with Ally and Haruka as well. We made okonomiyaki and I think we did a good job. We didn't get to do a lot after lunch though. We soon had to say goodbye and head on over to the bus. 
I had such an amazing time with Yuri and I really didn't expect it to go as well as it did. Reise, Tayne, and I got along great with her and it was a lot of fun. Admittedly I was on the luckier side due to the fact that I can speak Japanese which makes things a lot easier with getting along but still as a whole we all did really well. We laughed and had a lot of fun with Yuri and Haruka and it made me sad when we had to say bye on the bus. I think my grade was able to become pretty close with the Keiai students and it's something I'll remember for quite some time. 
Phtot Credit: Yuri Kanamoto
Thank you for reading about my homestay experience!
-Mina ♥
Here is a link to a Facebook post about our trip to Keiai with more photos!
Here is another link to my schools Facebook where you can see all the posts that we posted about the trip!